Wol/zijde blends (pakket)
Wol/zijde blends (pakket)
---
325 gram assortie vilt- en spinmateriaal. 70 % Wol met 30 % Zijde.
13 keer 25 gram.
---
The colors on your monitor may differ from the real color of the product.
---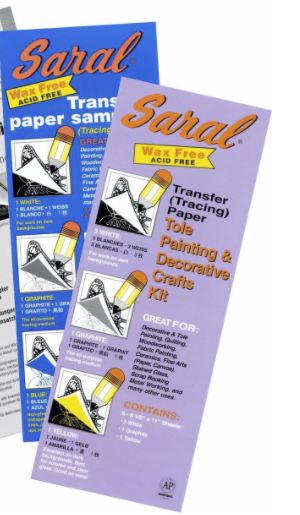 Met dit transferpapier kunnen patronen overgebracht worden op alle soorten ondergronden. Keramiek, hout, glas, metaal, tegels en op textiel. De lijnen laten zich gemakkelijk uitgummen of in het geval van textiel uitwassen. Er zit geen was in Saral; het is overschilderbaar en meerdere keren te gebruiken.
Een pakje bevat 5 vellen; de hobby set 3 x wit, 1 x graphite en 1 x geel.
De universele set bevat 1 x wit, 1 x graphite, 1 x rood, 1 x geel en 1 x blauw.
---