Papiermaak Frame
---
The colors on your monitor may differ from the real color of the product.
---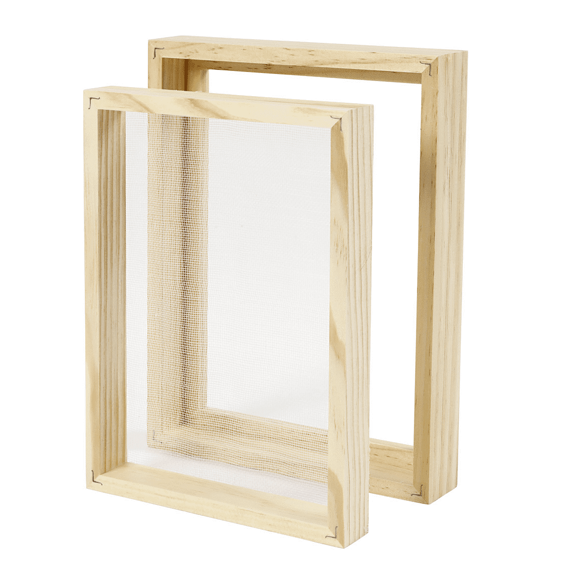 Gelakt houten frame/mal om handgeschept papier te maken. Op het frame is een grof gaas vastgezet dat de vezels uit het pulpbad zeeft. Om de hoeveelheid vezels die worden gezeefd te bepalen is een opstaande rand nodig rond het gaas. Dit wordt gerealiseerd door een tweede frame waarin het frame met gaas past. Hoe hoger de rand des te dikker wordt het papier. Natuurlijk bepaald de dikte van het pulpbad ook de dikte van het papier. Hoe meer vezels per liter water des te dikker wordt het papier. 
Na het zeven wordt de opstaande rand van de zeef genomen en het gezeefde materiaal op een doek of vilt of vezelvlies overgedragen/afgekoetst en verder gedroogd. 
Soort vezels en andere grove fracties bepalen met eventueel bindmiddel, vulstof en kleurstof het eindresultaat dat ook nog door mechanische bewerking van oppervlakte structuur kan veranderen.
Voor inspiratie, kijk bij het product kozo paper

---